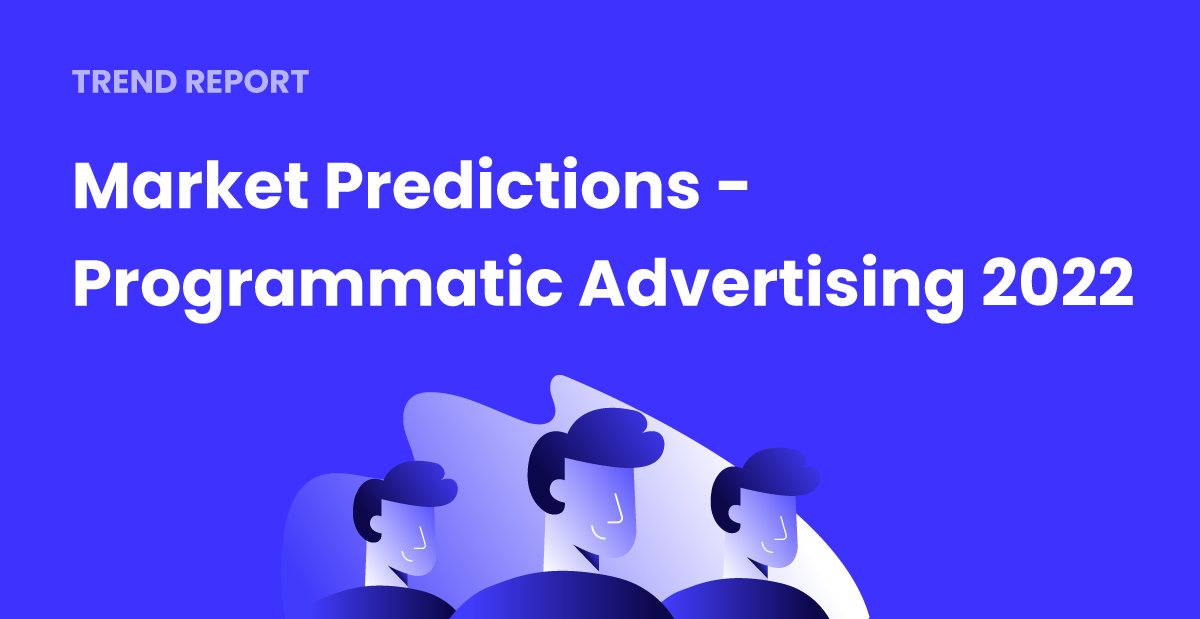 Global programmatic advertising spending reached $155 billion in 2021. New technologies are being developed faster than ever before, and to keep up with the industry companies need to familiarize themselves rapidly with these significant changes. We've summed up some of the biggest trends we expect to see in the coming year and the challenges and opportunities that come with it. 
Cookieless - First-party-data and Contextual
With Google postponing the end of third-party cookies to 2023, it has given the digital marketing space an opportunity to innovate and create solutions that are flexible and strong enough to sustain in a cookieless world. There are primarily two main solutions that are being invested in – the use and optimization of first-party data, and contextual targeting. 
Publisher-owned first-party data will deliver real value and is expected to replace third-party data at least with larger publishers. With their work being focused on scaling to meet the needs of the market. Contextual targeting allows ads to reach high-intent audiences at the right time, by offering the users relevant experiences. With its viability as a privacy-compliant alternative to cookies, contextual will be the way campaign targeting is performed in the future. This is done through the use of AI, which is driving the development and improvement of contextual targeting.
Market behavior will likely shift, seeing that competition will increase as media spending moves away from cookies and towards identity solutions and contextual targeting. However, these solutions are not as feasible to use for smaller, independent publishers who don't have enough data to scale. As an industry, we need to further develop these technologies to make sure smaller companies won't start off their cookieless journey at an unfair disadvantage.
As we're expecting to see the rise of more subscription-based business models, digital audio will likely reap the benefits. Ad spending on digital audio is expected to expand widely in 2022 and reach nearly $7 billion. With an expected annual growth rate of 9% from 2022-2026. However, there are difficulties in projecting the future of digital audio advertising, as there is a need for industry standards to be set and innovation within the domain will be imperative.
Dimitris Theodorakis, VP of Detection at HUMAN, states that "Audio environments are facing similar challenges to CTV when it comes to IVT detection. In many cases audio players don't support the execution of Javascript code and audio ads are often stitched using SSAI technology which reduces transparency and signal quality.The way in which people interact with audio is very nuanced, which also impacts the detection process. We should work as an industry to introduce more standards that increase transparency and defensibility of this inventory, including standards such as ads.cert 2.0 and device attestation protocols."
Consolidation in Programmatic Media - M&A
2021 was the year for consolidations in programmatic media. There was an exceptional number of M&A, with the pandemic further pushing the advancement of digital consumer behaviors. As a result of the increasing market investments in 2021, it is clear that the industry is embracing an omnichannel future. Amongst the consolidations we saw last year, were Microsoft acquiring Xander, iHeart Media acquiring Triton Digital, Spotify acquiring Whooskah, after having acquired Megaphone at the end of 2020, and Verve Group acquiring Smaato. We can expect the consolidation trend to continue to evolve in 2022, as the market is only growing bigger with constant new advancements and verticals in programmatic advertising.
For the ecosystem as a whole, the increasing number of M&A means that publishers and advertisers will be able to manage an ever-growing number of activities in one place. It also means that there will be less players to choose from, but each with more features and capabilities. This will eventually help increase revenue, as it optimizes the media buying process. On the other hand, it is clear that consolidations could affect competition. With the big getting bigger, and smaller companies striving to get their part of the market share. Though, we can expect to see several regulations surrounding M&A being introduced in the coming year.
Although Supply Path Optimization (SPO) is not a new term or practice, it is definitely one that will have increasing importance in 2022. By using SPO, the value
chain
from the buyer to the seller is transparent, and it ensures that each player in the chain is not faced with any artificial costs. Similarly to the transparency previously offered through direct buys, but with the benefits of programmatic sales. Defined by the IAB as "a process in which multiple variables are assessed to drive buyers towards the most efficient buying path." SPO also enhances the final user experience, by securing the ad supply path, established upon IAB Tech Lab Protocols, and providing quality control. In short, SPO leads to a simplification of the buying chain in programmatic advertising and is another step on the way for companies to embrace all things omnichannel. 
The challenge for each player is and will be to prove their unique and added value. In terms of the evolution of SPO in 2022, we expect to see seller.json files being updated regularly on the publishers' side, and more DSPs enforcing SPO.

2022 will be a thriving year for innovation in programmatic advertising. It will be crucial for companies across the entire ecosystem to have a fraud detection and prevention system in place to stay viable. Moreover, there is a need for regulations and new industry standards, especially in the domain of CTV and Digital Audio. Display will continue to be equally important and a top choice programmatic channel for placement of ad spend. In the US, programmatic digital display ad-spend is estimated to $96.5billion in 2022. Video will also continue to surge, estimated to reach almost $43 billion in the US in 2022, nearly double the expenditures in 2019.